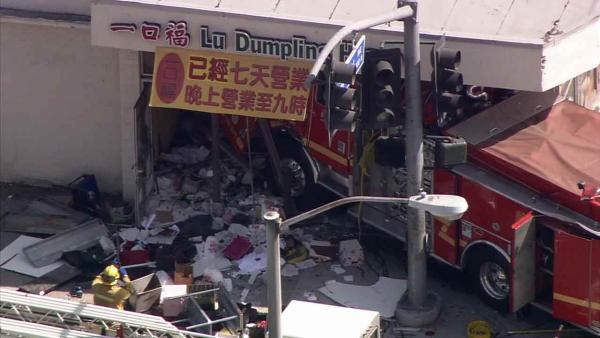 MONTEREY PARK, Calif. (KABC) -- Fourteen people were injured when two fire trucks collided, sending one into a Monterey Park restaurant Wednesday.

A Monterey Park Fire Department engine truck crashed into a building at the intersection of Emerson and Garfield avenues shortly after 3 p.m.

Monterey Park Police said an Alhambra Fire Dept. truck collided with a Monterey Park fire engine, sending the fire engine into the Lu Dumpling House restaurant on the southeast corner. Both trucks were responding to a house fire.

Monterey Park Fire and CHP authorities said there were 14 patients in total. Firefighters, pedestrians and restaurant patrons were among the injured. Some patients were transported to Garfield Medical Center.