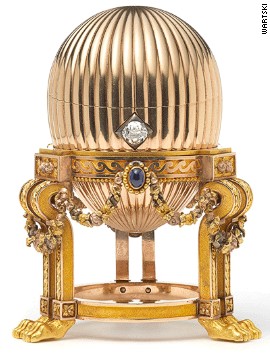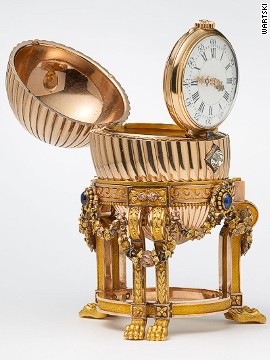 A $14,000 jumble sale find turned into millions of dollars for a man who'd been thwarted in his attempts to turn a quick profit by selling the tiny ornament to scrap metal dealers.
The man, who hails from the Midwest but wishes to remain anonymous, had been left financially stretched after he apparently overestimated what the tiny golden egg would be worth once melted down. He'd been hoping to make $500.
In a fit of desperation one night last year, he typed "egg" and the name engraved on the clock it contained -- "Vacheron Constantin" -- into Google.
His search brought up a 2011 article in Britain's Daily Telegraph newspaper describing a "frantic search" for the object: the Third Imperial Easter Egg, made by Faberge for the Russian royal family and estimated to be worth 20 million pounds ($33 million).
Far from being a financial millstone around the scrap metal trader's neck, it appeared the golden egg might live up to its fairy-tale namesake and avoid the furnace with just a few scratches -- to assess its gold content -- to show for it.
The man contacted Faberge expert Kieran McCarthy and flew to London to visit McCarthy's workplace: Wartski jewelers in Mayfair, where the egg will be displayed to the public for only the second time, from April 14 to 17.
'Holy Grail of art and antiques'
McCarthy said he had no warning about the visit.
"A gentleman had walked in wearing jeans, a plaid shirt and trainers. His mouth was just dry with fear," McCarthy said, to the extent that he could barely speak. "He handed me a portfolio of photographs, and there was the egg, the Holy Grail of art and antiques."
Though he had not handled the egg itself, McCarthy said, he was "buzzing from top to toe." He flew to the man's home to see the object in person and confirmed that it was indeed the Third Imperial Egg.
The finder "just can't believe his luck," McCarthy said. "It's almost an affirmation of his existence that this happened to him."
More at Link