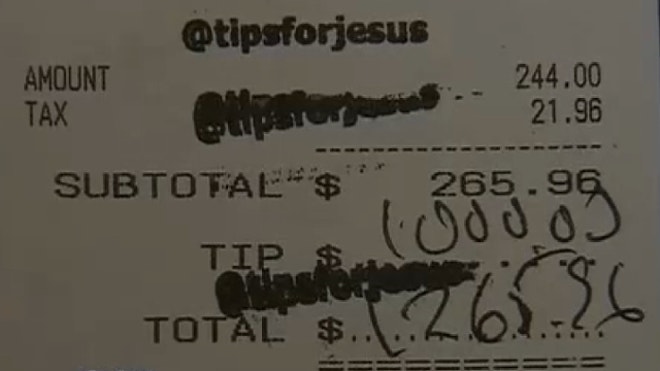 An anonymous diner or group of diners have been leaving generous tips at restaurants across the country and posting pictures of receipts on an Instagram account with the username 'tipsforjesus.'

The mystery tipper has reportedly left thousands of dollars in tips at restaurants in San Francisco and Chicago. They recently left a server at The Hungry Cat in Los Angeles a $1,000 tip on a nearly $266 bill, MyFoxLA.com reported.

The Instagram account reads, "Doing the Lord's work, one tip at a time."

The Hungry Cat's Becky Graziano told the station she thinks the anonymous tipper is someone who wants to be generous during the holidays.

"I think I was more nervous than anybody, because I pay them out at the end of the night. But it went through, so they got their money," Graziano told the station. "It's a mystery for sure."

On Tuesday, a University of Notre Dame campus restaurant said two bartenders would share a $10,000 tip that was left by a group of men who signed the receipt '@tipsforjesus' and posted a photo of the bartenders with their tab on Instagram.
I'm sure some asshole out there will get his nose out of joint over "Jesus," but this certainly seems like a nice thing to do, particularly at this time of year.