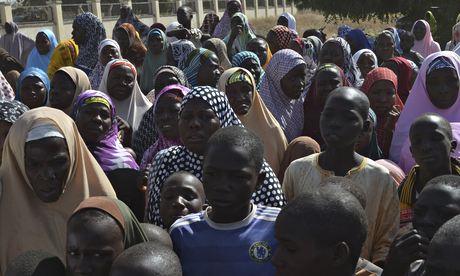 Relatives of kidnapped schoolgirls in Chibok. Photograph: Afolabi Sotunde/Reuters
For two weeks, retired teacher Samson Dawah prayed for news of his niece Saratu, who was among more than 230 schoolgirls snatched by Boko Haram militants in the north-eastern Nigerian village of Chibok. Then on Monday the agonising silence was broken.
When Dawah called together his extended family members to give an update, he asked that the most elderly not attend, fearing they would not be able to cope with what he had to say. "We have heard from members of the forest community where they took the girls. They said there had been mass marriages and the girls are being shared out as wives among the Boko Haram militants," Dawah told his relatives.
Saratu's father fainted; he has since been in hospital. The women of the family have barely eaten. "My wife keeps asking me, why isn't the government deploying every means to find our children," Dawah said. The marriage reports have not been confirmed officially, and rely on eyewitnesses.
The 14 April abduction of the girls – students aged between 16 and 18 who were sitting a physics paper at their school, one of a handful in troubled Borno state that had opened specially for final exams – shocked a nation inured to violence during a five year-insurgency.
Desperate parents launched their own rescue attempts in the 60,000 sq km Sambisa forest where the girls were being held. Security sources told the Guardian that at least three rescue attempts had been scuppered.
This week, former prime minister Gordon Brown, the United Nations' special adviser on girls' education, will visit Nigeria to launch a campaign to raise funds and awareness of the schoolgirls' plight. "We cannot stop terrorism overnight but we can make sure that its perpetrators are aware that murdering and abducting schoolchildren is a heinous crime that the international authorities are determined to punish," he said.
Reports of the mass marriage came from a group that meets at dawn each day not far from the charred remains of the school. The ragtag gathering of fathers, uncles, cousins and nephews pool money for fuel before venturing unarmed into the thick forest, or into border towns that the militants have terrorised for months.
On Sunday, the searchers were told that the students had been divided into at least three groups, according to farmers and villagers who had seen truckloads of girls moving around the area. One farmer, who spoke on condition of anonymity, said the insurgents had paid leaders dowries and fired celebratory gunshots for several minutes after conducting mass wedding ceremonies on Saturday and Sunday.
"It's unbearable. Our wives have grown bitter and cry all day. The abduction of our children and the news of them being married off is like hearing of the return of the slave trade," said Yakubu Ubalala, whose 17- and 18-year-old daughters Kulu and Maimuna are among the disappeared.
The parents are planning a mass rally on Saturday to lobby the government for official updates rather than having to rely on reports from local people.
More at Link