The mood in the room was somber as five doctors, a nurse, and a social worker pulled their chairs around the table and turned to address Autumn Chenkus and Charlie Higgs.
The couple's 5-month-old son, Maverick, was down the hallway fighting for his life, and the doctors explained there was nothing they could do to help him.
"Take your baby home and love him for the time he has left," Chenkus and Higgs say the doctors told them.
They asked how long their son had left to live. About six months, they remember the doctors telling them.
Higgs wept, but Chenkus felt like she'd cried enough in the past five months for a lifetime. She was like a rock now, and after the meeting with the doctors she went directly back to her son's room without shedding a tear. In a chair next to his hospital crib, she opened her laptop and hoped the Internet might have clues for how to keep her baby alive.
Maverick was born with a severe heart defect, and even after two surgeries was in heart failure. Doctors had discussed a heart transplant with Maverick's parents, but at the meeting they said he didn't qualify for a new heart because he had a rare genetic defect that put him at a high risk for tumors and infections. A heart transplant would be too risky, they explained.
As Chenkus did her research on Maverick's genetic condition, she couldn't believe her eyes. Not one of the studies she read mentioned anything about an increased risk for tumors or infections. She e-mailed one study's author, and he confirmed she was right.
Now they'll do the transplant for sure, she told Maverick's father excitedly. Our son doesn't have to go home and die.
But it didn't matter. The doctors still refused to give Maverick a new heart.
At first, Maverick's mother was confused, but then she said it dawned on her: This supposed propensity for infections and tumors was a smokescreen.
She felt the real reason the doctors were denying their baby a life-saving transplant was that children with Maverick's genetic condition grow up to have disabilities. They don't want to give Maverick a heart because he won't grow up to be "normal," she thought.
At another meeting, she looked one of the doctors in the eye.
"You're discriminating," she said.
"That's ridiculous," she remembers the doctor responding.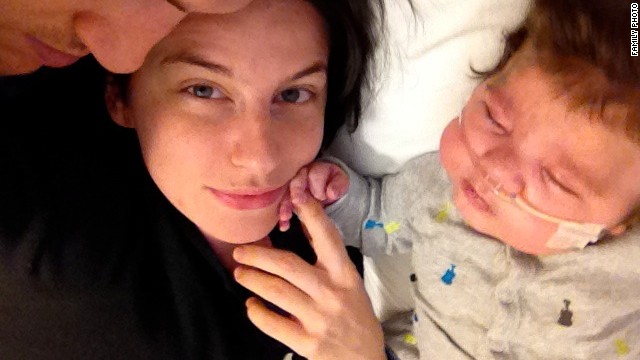 "You don't want to waste a heart on him," Chenkus replied. "You're trying to play God, and you're lying to me."
What happened next is the subject of a federal investigation and has pitted a family against the very doctors who were supposed to save their baby's life.
"They're blowing smoke up my butt"
There are few hard and fast rules to guide doctors as they select who will get a transplant, effectively selecting who will live and who will die.
And there's no question some will die. Last year in the United States, 321 people, including 19 infants, lost their lives while waiting for a new heart. Right now, some 3,500 people await a heart transplant, and the situation is only getting more desperate as the waiting list grows but the number of donors remains about the same.
In the face of such scarcity, doctors try to select the patients most likely to get the longest life, and the highest quality of life, from a new heart.
"We have to be stewards of a very valuable resource. We want hearts to go to people who we think will benefit the most from them," said Dr. David Taylor, immediate past president of the International Society for Heart and Lung Transplantation.
These decisions are, to some extent, subjective, as doctors sometimes disagree with each other about who should get an organ. Over the years, medical ethicists and patient advocates have accused transplant physicians of discriminating against one group in particular: the disabled.
"We absolutely know this happens. It's a huge problem," said David Magnus, director of the Center for Biomedical Ethics at Stanford University. "It's real people sitting in a room making these tough decisions, and it's not surprising their own prejudices and biases influence them."
He points to the case of Amelia Rivera, a New Jersey girl with disabilities who was denied a kidney transplant last year, and to a survey he conducted in 2008 showing that more than four out of 10 pediatric transplant centers say they always or usually consider a child's neurodevelopmental delays when making a transplant decision, even though studies have found children with these delays fare just as well medically after a transplant as other children.
In the past when transplant doctors rejected patients with disabilities, they were often explicit about why.
"We do not feel that patients with Down syndrome are appropriate candidates for heart-lung transplantations," doctors wrote in 1995 to a patient named Sandra Jensen, according to a newspaper article at the time. An uproar ensued and Jensen got a new heart.
Now families and advocates say to avoid adverse public reaction, doctors are shrouding their transplant denials in medical excuses that some say are outright lies in order to avoid transplanting patients who will never be "normal."
Karen Corby said doctors have given her one reason after another for refusing to give a transplant to her son, Paul, 24, who has autism, and she doesn't believe any of them.
Corby, who reached out to three hospitals for a heart transplant for her son, said doctors have told her Paul wouldn't be able to manage the complicated drug regimen after his transplant. Corby, 47, explained that she lives with her son and directs his care, and if anything were to happen to her, he has "Team Paul," his sister and six aunts and uncles.
She was also told transplant medications could have potentially harmful interactions with Paul's psychiatric medications. She responded that Paul's psychiatrist said he could easily switch to other drugs.
Doctors also said they worried Paul might not be able to let anyone know if he felt sick after the transplant. Karen replied that her son, who graduated from high school and has taught himself to program computers in several languages, is completely verbal and had alerted her a few years earlier to subtle symptoms that ended up being a stroke.
"To be blunt, I feel like they're blowing smoke up my butt," she said.
Ari Ne'eman, president of the Autistic Self Advocacy Network, agreed that doctors sometimes "blow smoke" at patients with disabilities.
"Doctors give faux medical reasons. On further scrutiny, they don't stand up," said Ne'eman, who wrote a policy brief on the issue. "When someone with a disability is looking for a transplant, discrimination is the norm."
Transplant doctors said they don't discriminate against people with disabilities, but that disabilities need to be considered when making transplant decisions.
For example, Taylor, a heart transplant cardiologist at the Cleveland Clinic, said physicians must weigh whether a patient -- any patient -- is willing and able to follow complicated post-transplant medication directions. If the patient doesn't follow doctors' orders, the body could reject the new organ.
"If I were to go in front of the transplant committee, they'd want to stop and see if I'm some pompous doctor who's not going to listen to instructions," he said. "That has to be taken into account."