Very cool.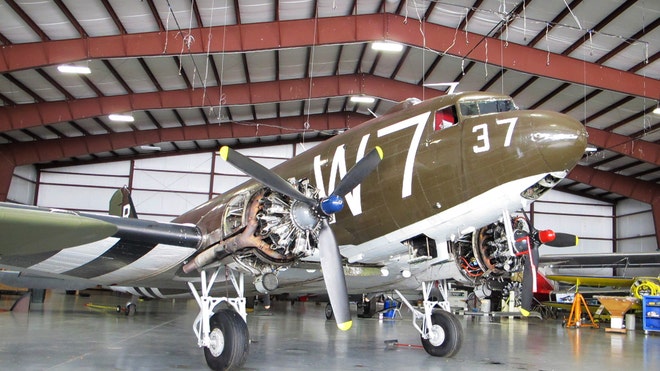 The next time the American military transport plane known as Whiskey 7 drops its paratroopers over Normandy, France, it will be for a commemoration instead of an invasion.

Seventy years after taking part in D-Day, the plane now housed at the National Warplane Museum in western New York is being prepared to recreate its role in the mission, when it dropped troops behind enemy lines under German fire.

At the invitation of the French government, the restored Douglas C-47 will fly in for 70th-anniversary festivities and again release paratroopers over the original jump zone at Sainte-Mere-Eglise.

"There are very few of these planes still flying, and this plane was very significant on D-Day," said Erin Vitale, chairwoman of the Return to Normandy Project. "It dropped people that were some of the first into Sainte-Mere-Eglise and liberated that town."

[....]

One upgrade it did allow was the installation of two GPS systems to keep the aircraft on course.

"The avionics in the airplane are modern. We're not going to go with what they had in 1943," Wadsworth said. "They would have had probably a radio beacon receiver and a lot of dead reckoning."

There is still no autopilot, said Wadsworth's daughter, Naomi, who will be among five pilots — one including her brother, Craig — taking turns at the controls on the way to Europe. That's fine with her, she said.
Also no hydraulics. The Dakota was "fly by wire" when that meant that there was a set of cables and pulleys that led from the controls in the cockpit to the flaps on the wing and the rudder and whatnot. It's gonna take a long time to get to Normandy from the U.S., but what a great trip that will be!