So, first, they started the day off right, with a
report from the Office of Special Counsel
that the IRS has routinely violated the Hatch Act, everything from displaying Obama election bumper stickers and buttons right down to actually telling people on the phone that they should vote for Obama. Major no-nos.
Then, they rounded out the morning with
Lois Lerner formally being charged by the Ways and Means Committee
with abusing her office and perjury, among other things. As was quickly noted, the Committee referred this to Eric Holder, who is himself under a contempt charge from Congress and is
overtly hostile toward Congressional oversight
. So, it's going nowhere, right? Not so fast. The Committee
won't rule out using their own power of arrest
if Holder refuses to act.
After this bit of fun and frivolity, people started actually
reading
the filing with the DOJ, and among other things, learned that Lerner was apparently considering angling for a job with Obama's campaign organization. So buy this afternoon, this was breaking: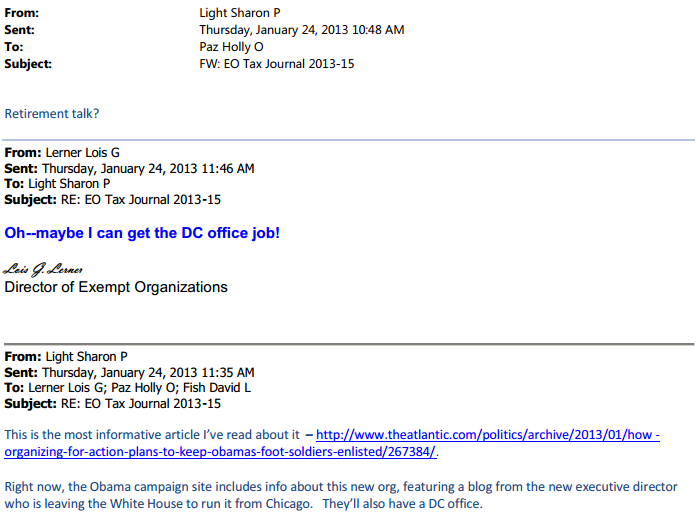 While it's possible that she was saying this in jest, but it's
absolutely
not something someone in a high government position should be talking about on a government e-mail account, even in jest.
And, to wrap up the afternoon, it broke that
Elijah Cummings and Lois Lerner shared information on True The Vote
, an utterly
flagrant
violation of a whole lot of laws. Furthermore, three days ago, Elijah Cummings vehemently denied that he had ever gotten any information on True The Vote, but this evidence is utterly damning, and the best that he could muster was calling getting caught "McCarthyism."
This is sounding more and more like Watergate by the minute. Well-past time for a Special Prosecutor.