You can't make this up! This loon is rapidly becoming almost as insane as Cynthia McKinney. She apparently believes this bullshit that she's shoveling.
Yesterday, Debbie Wasserman-Schultz appeared with Candy Crowley, and the pair began discussing Obamacare and the 2014 elections. Crowley wondered if the epic implosion of the President's signature legislation might not be a bit of a headache for Dems seeking re-election.

Wasserman-Schultz couldn't disagree more. In fact, she thinks that Americans love Obamacare so much that Democrats are eager to run on the law's obvious popularity.


"I think Obamacare – because Americans have been feeling the benefits since 2010. Where young adults can stay on their parents insurance until they're 26. Where on January 1st if you have a pre-existing condition, like I do as you know as a breast cancer survivor; the peace of mind that those Americans are going to have knowing that they can never be dropped or denied coverage for that pre-existing condition. The preventative care that's available without a co-pay or deductible. Those are benefits that Americans have already been feeling and will increasingly feel as Obamacare is fully implemented.

So I think, Candy, that Democrats will be run on Obamacare as an advantage heading into the 2014 election."


Well that's just super, then! Everyone loves Obamacare, so Democrats should have no problem bragging about how great it is. Never mind that Dems in 2014 Senate races are already running from the ACA like it's a syphilitic zombie with a chainsaw, Debbie is sure they're super excited to campaign on its many, many, benefits.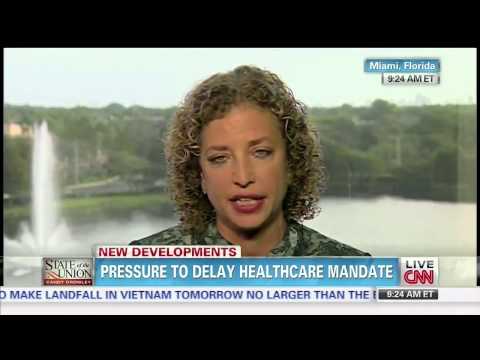 Unavailable for comment: