Finally, some good news: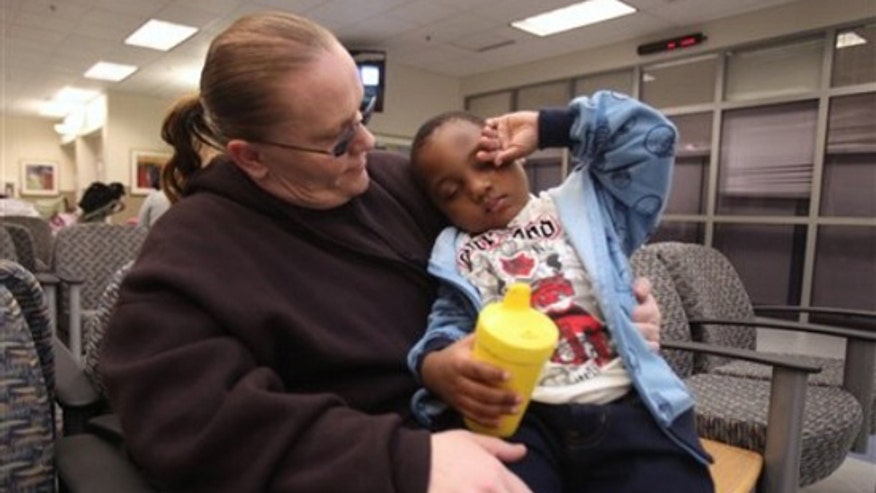 WASHINGTON – Forty-eight million Americans will have their food stamps benefits slashed starting Friday, when a recession-era boost in the Supplemental Nutrition Assistant Program (SNAP) expires.

The move to cut back benefits will be the first wide-scale change to the program affecting nearly every single participant. The 13.6 percent cut comes out to about $36 a month less for a family of four getting government assistance or $420 a year, according to the Department of Agriculture.

Since 2000, the costs for the plan have increased more than 358 percent.

[....]

"People are living at the margins," Ellen Vollinger, legal director and SNAP advocate at the Food Research and Action Center, an anti-hunger organization, told Reuters. "It's not an abstract metric for people. It's actual dollars to keep food in the refrigerator."

The slash in the program also means less money for discount grocers, dollar stores and

gas stations

that rely on low-income shoppers.

SNAP is the largest anti-hunger program in the country.
Newsflash, people! It's well past time to stop having people buy their food from a damn
gas station!
This is a big part of why the program costs so damned much! These people need to either get in their cars (most of them) or else get on the bus and go to Wal-Mart or Kroger or anywhere
BUT
a gas station to buy their food. All of these "convenience markets" around the nation need to be systematically removed from the SNAP program entirely. They charge a freaking fortune and the people who are buying "food" there don't give a damn what it costs because someone else is paying for it.
More details
:
Reductions vary, but for a family of four in Illinois currently receiving the maximum benefit of $668 per month, that amount will drop to $632. Meanwhile, a single person will see benefits lowered from a maximum of $200 per month to $189.
$632 for food for a family of four per month? I'm sorry, but that's ridiculous. $200 for a single person for food for a month is ridiculous. I'm a single person who doesn't get food stamps and my grocery bill is much closer to about $150 per month, and I'm not exactly eating rice and beans. And remember, the "S" in SNAP is 'supplementary," it's
not
intended to pay for someone's entire grocery bill. And yet, a family of four gets way, WAY more than enough to feed them three squares a day comfortably for a month on SNAP.
I'm all for helping poor people, but this is absurd. First and foremost, the eligibility needs to be
severely
restricted. The biggest explosion in expenses of this program is the
doubling
of recipients over the last four or five years. That needs to be reversed, and fortunately, a lot of it is being reversed with the ending of the Failulous spending. It still needs to be restricted further, because there's still a shitload of abuse out there that needs to be stopped. First and foremost, what can be purchased with food stamps needs to be greatly curtailed. I've said this many times before, but it bears reiteration: staple items only, generic only, pretty much no prepared foods of any sort. Secondly, the whole notion that an able-bodied person gets food stamps needs to be chopped off at the knees. If you're able-bodied, you need to be out working. I really don't give a shit if you think that the job doesn't pay enough; get your sorry ass off the couch and go to work. The disability requirements need to be tightened up a lot, too: I know too many people who are "disabled" and getting multiple forms of government tit who still manage to go out and mow the lawn and, in one particular case I know of (though there are undoubtedly many, many more), buy new furniture with their monthly check
and move it into their Section 8 housing themselves.
This just has to stop. I know that this will make hyper-sensitive Leftists recoil in horror, but government assistance needs to be shameful again, like it used to be. There should be red lights and sirens that go off every time someone buys groceries with their food stamps. There should be a national registry of Section 8 housing
and
the people who live there. And while it should be redacted for identity-theft information (SSN, etc.), the tax returns of anyone who is on government assistance should be public information, searchable by anyone. If you file a tax return to take your EITC credit in order to get a huge "refund" of taxes that you didn't even pay, then you need to be subject to the scrutiny of the public. The
people
manage to be good stewards of public funds, even though the media often is not, and governments
certainly
are not. Let the people root out this stuff, and you'll put a stop to all of this fraud in no time flat.