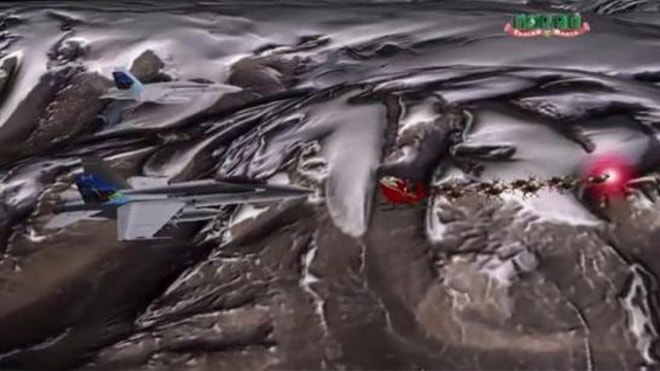 A North American Aerospace Defense Command website showing Santa Claus delivering presents while flanked by fighter jets has some child advocates raising concerns about Saint Nick's new travel companions.

NORAD Tracks Santa, operated by the joint U.S.-Canada command, has provided children with information about Santa's whereabouts since 1955. In recent years, Santa updates have included animated videos showing Santa on his flight path.

In addition to Santa's traditional sleigh and reindeer, NORAD has added an animated fighter plane escort to give a realistic feel to the popular program, a command spokesman told Reuters.

"We wanted to let folks know that, hey, this is a NORAD video, and we're the military and this is our mission," Navy Captain Jeff Davis said.

Allen Kanner, a California child and family psychologist and co-founder of the Boston-based Campaign for a Commercial Free Childhood, told The Boston Globe the Pentagon is "completely out of line" for linking Christmas with the military.

"Children associate Santa with gifts and fun and everything else that is positive about Christmas," Kanner told the newspaper. "They are associating this with the military in children's minds."
STFU you whiny little bitch. Good grief.
One tiny little bit of fun for kids (and, I'll admit, some grown-ups) at Christmas, and this dickhead has to come along and just shit all over it. Asshole.