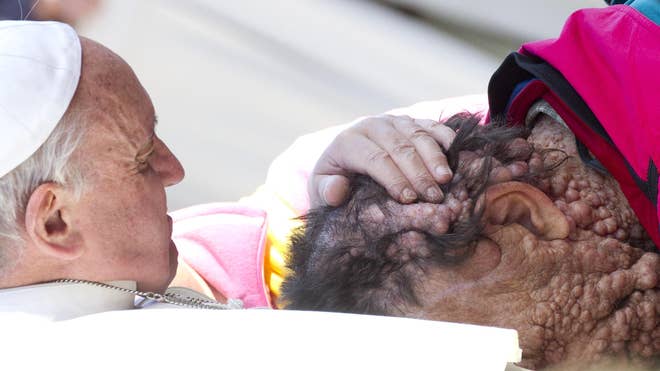 He comforts the untouchables, engages atheists and wades into crowds his predecessors merely waved to, and in doing so, Pope Francis is electrifying the Catholic Church in Italy and perhaps around the world.

The populist pope's insistence on bringing the papacy to the streets has sent flocks teeming back to basilicas and cathedrals in what some are calling "the Francis effect." Inspired by the Argentine pontiff's humble ways, and inspiring acts like kissing the head of a disfigured man, Catholics are returning to the church in droves and clamoring for the chance to glimpse Francis.

"I get up at 6 a.m. every day," said Francesco Atinori, who has worked as a Vatican receptionist for 24 years and lives near St. Peter's Square in the Vatican. "I open my window and am just amazed by people already on the Square for the brief Sunday noon address, and there are even more for the Pope's Wednesday general audience that starts at 10:30 a.m.."

It was at the Nov. 6 general audience that photos of Pope Francis cradling and kissing the head of man covered with tumors due to a genetic disorder went viral.

"That was an incredibly moving moment, one that was reminiscent of the actions of the man whose name this Pope has taken," said Father Greg Apparcel, rector of the American parish Santa Susanna in Rome. He was referring to the Pope's namesake, Saint Francis of Assisi, who gave his family wealth to a leper begging on the streets, much to the chagrin of his wealthy silk merchant father..

Such simple, yet powerful acts, together with Pope Francis' eschewing of such trappings as the Popemobile and penchant for showing up unannounced wherever the faithful gather, have made him wildly popular. The appeal of the 76-year-old pontiff, who has made helping the poor, mercy and charity the cornerstones of his papacy, is evident in the sheer number of people attending church and Vatican functions.

A recent survey of Catholic clergy in Italy noted an increase in the numbers attending Mass and confession since the election of Pope Francis, formerly Argentine Archbishop Jorge Bergoglio. The study by sociologist Massimo Introvigne, published Sunday in the Italian daily La Stampa, estimates that in Italy alone more than 100,000 are "returning," often after decades of non-attendance.

"Personally, I have also talked to several people from home who have been 'away' from the Church for many years," Apparcel told FoxNews.com. "They are very moved by the Pope's words and actions, and are asking questions about returning to more active involvement in their faith."
The guy is clearly very popular, and for good reason. Even as a Protestant, I like him, at least as a person. I think that as the
de facto
leader of the Christian faith, he's doing quite a fine job.
Note: I'm still trying to figure out how to fix the black text editor problem. Most confusing. And frustrating. It should just be a simple stylevar (
style var
iable), but it's just not cooperating. Apparently, I'm going to have to try something completely different.